Enjoy the simple elegance of our Standard Photo Bags, or customize by adding a logo of your own.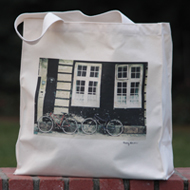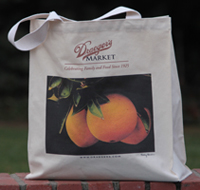 Check out our current selection of designs.
Click on each photo to see them up close and learn where each was taken.

Dimensions:


	Medium: 13 wide x 13 tall x 6 deep

	Large: 15 wide x 15 tall x 7 deep

Each photo an original work of art by professional photographer Kathy Hardin.

Highest quality 100% cotton canvas with no added chemicals.

Our 10 ounce fabric is thick, with a tighter weave than the flimsy 7 ounce fabric that you will find in most canvas bags.

The 1 1/2" x 22" web handles allow you to carry our bags comfortably on your shoulder.

A recyclable hard plastic bottom helps the bags hold their shape when carrying heavy objects.

Seams are reinforced for added strength.

Our printing quality is the best, and washes beautifully.

Select from 11 unique photographs, captured from around the world.

Most popular uses: groceries and shopping bag, craft and knitting projects, toys & books, work supplies, overnight bag, and many more!
(877) 967-1818>
products are sold at the following locations: