B & Me is a mother-daughter team dedicated to bringing you the highest quality, most beautiful canvas bags out there. Displaying the unique and beautiful photographs of professional photographer Kathy Hardin, your B & Me bags will get noticed and draw compliments instantly!
Kathy loves photography and Janet is dedicated to a greener environment for her first son Brayden "B" (and now second son Caleb too)!
We hope the enthusiasm we put into our product brings you joy.
We would love to hear your feedback and suggestions.
Stay tuned, more bags coming soon.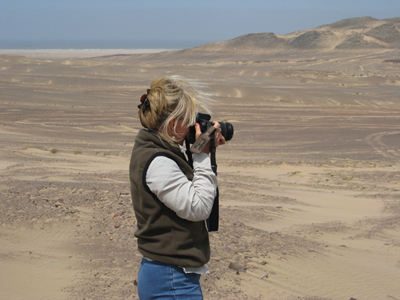 Kathy taking photographs on the Skeleton Coast, Namibia.
(877) 967-1818>

Janet Leese
Co-Founder
Send an Email

Kathy Hardin
Co-Founder
Phone/Fax: (877)967-1818
Please call or email us for wholesale orders. We look forward to working with you!